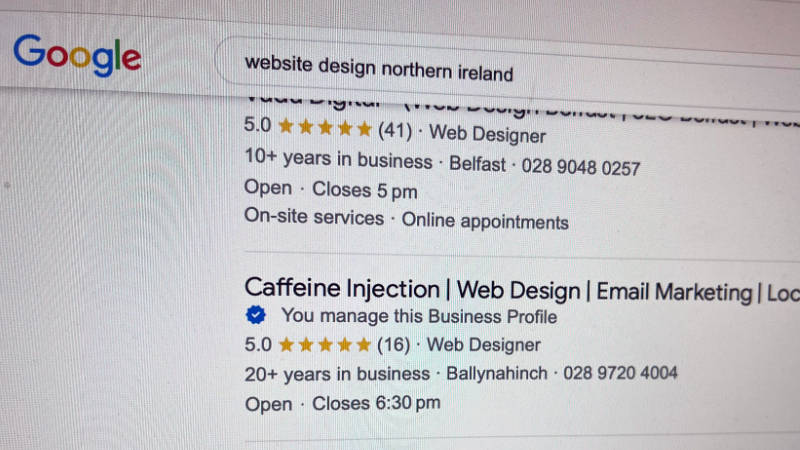 How To Get On The First Page Of Google
Before we get into the meat of this blog post, let me say I know for a business that offers getting on the first page of Google as a service, it's a bit rich for me to say I don't focus on it for Caffeine Injection. But hear me out.
My main business sector, web design, is fiercely competitive, with a lot of massive agencies that have very deep pockets. Most of these spend a fortune dominating the top of any Google search result. So many years ago, I took the decision not to ignore Google but not to focus on Google for generating new business leads.
As such, while I do maintain a Google Business Profile and update it regularly. I do little else when it comes to Google. And yet, there it is: Caffeine Injection is near the top of the first page of Google for the popular search term "website design Northern Ireland".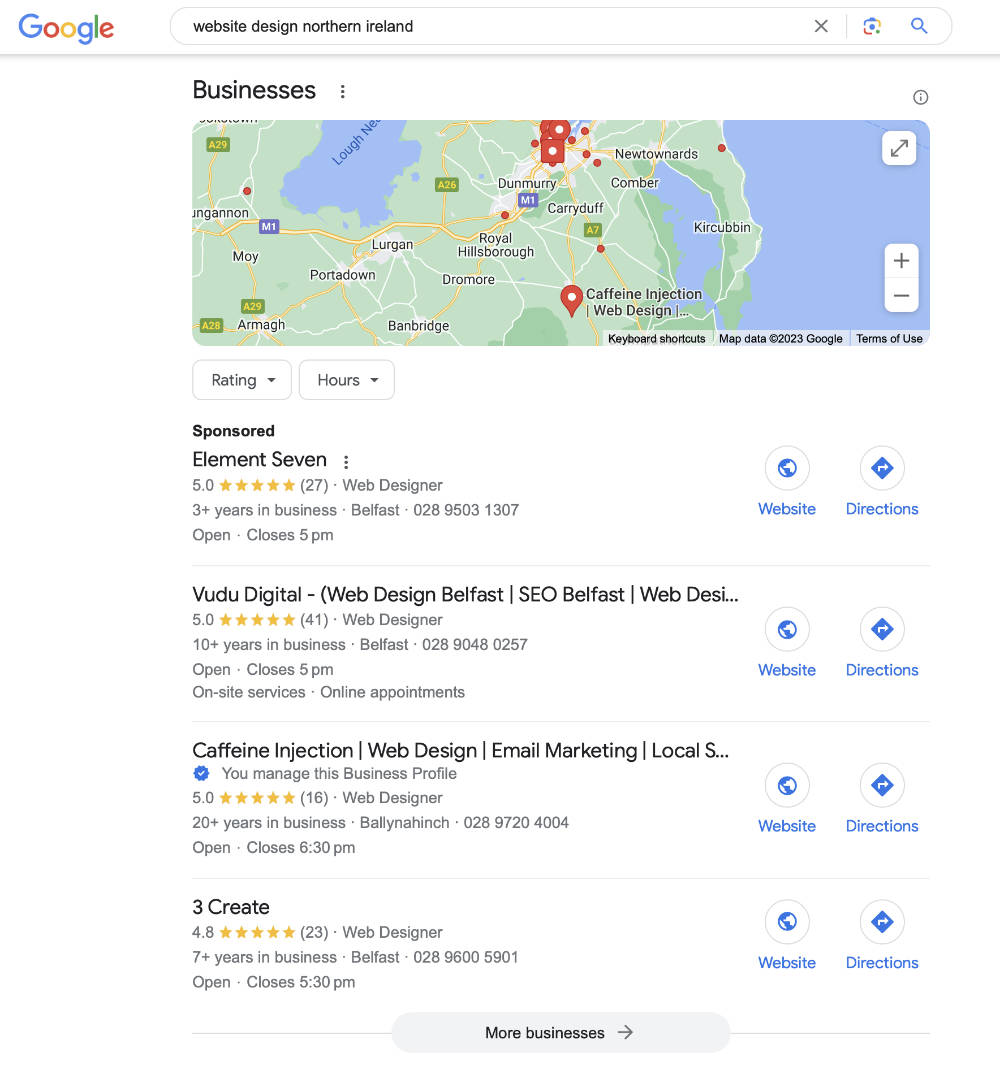 HOW?
It's all thanks to Google My Business. Or Google Local. Or Google Business Profiles. or whatever it's being called this week! (Google has a habit of renaming the service on a regular basis!)
What is Google My Business? It's a free service offered by Google, and it's aimed at local search results. Think of it as a regular Google but for businesses in a geographical area, as opposed to the regular, which is pretty much the whole world.
Getting good results on Google Local is far easier than regular Google, and once you make it into the four three or four, you will appear at the top of ALL Google search results.
I know that all sounds a bit complex. But there is a fuller explanation of it on this blog post from a while back.
All I did was set up the Google Business Profile Caffeine Injection a few years ago, and since then, I've regularly updated it. I've added pictures and blog posts on a monthly basis. Tweaked the settings and listing details from time to time and just generally kept the profile in tip-top condition. Other than that, not very much at all. This has all taken no more than an hour or two a month.
And the results? Well, they speak for themselves. For the popular search term "website design Northern Ireland" I'm right there, at the top of the main results page, thanks to being in the top four of the local results.
And to put that into context. There are 20+ pages of local results for that search term, with about 20 results per page. So that's a lot of results. Yet, for minimal effort, Caffeine Injection is right at the top. And it's cost me nowt. Not a single penny.
You Can Do This, Too!
I've done nothing clever or special. I've just been consistent. Plus, it's fair to say I have worked through the learning curve, so I now understand what Google wants from me in terms of my profile. But there is nothing stopping you from doing the same.
If setting up your Google Business Profile is a bit daunting, don't panic. I can do it for you. And if you are not sure how to maintain it in the early months so as to get good results quickly for the first few months, I can manage it for you and then hand it over once the desired results are achieved. So all you have to do is maintain it on a monthly basis.
But you don't have to use my services. You can do this yourself, for free.
So, if you really want to get your business onto the first page of Google, get that business profile sorted. Need help with it? Give me a shout.