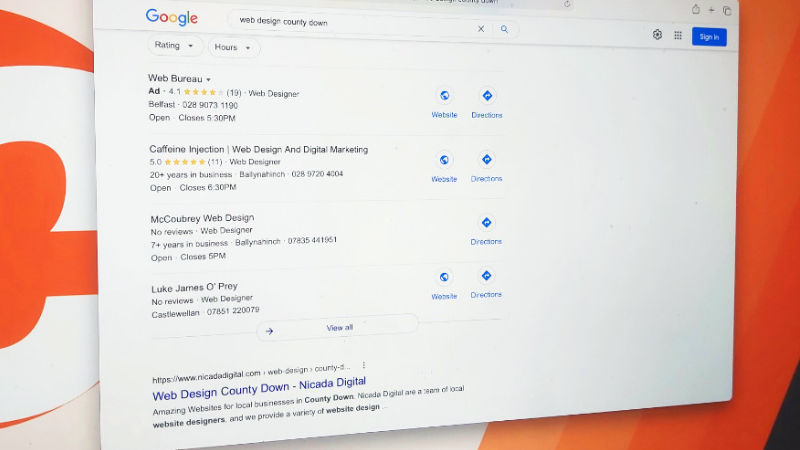 Google My Business Case Studies
First off, if you are not familiar with Google My Business or don't know what it is, read this blog post.
This post is about two recent clients, our most recent, Google My Business clients. and how we helped them get to the top of local search results.
Case Study One: Truly Nolen Northern Ireland
Truly Nolen is a global pest control business. Their Northern Ireland branch is headquartered close the where Caffeine Injection is located in a place. We worked on two of their locations; Lisburn and Ballynahinch.
Working with Truly Nolen was a little more complex than usual. They had two locations but wanted to get good results for three, which is quite challenging for Google My Business, as it's always tied to a physical location. We were tasked with working on the results for the search terms...
Pest Control Lisburn
Pest Control Downpatrick
Pest Control Ballynahinch.
The company had already set up GMB profiles for the Lisburn and Ballynahinch location, but both were incomplete with inaccurate and out of date information. So the first thing we did was update both profiles with new data. Ensuring all aspects of the profiles were utilised to get the maximum benefit.
After cleaning up the listing and maintaining them for two months, we achieved the following results.
As you can see, Truly Nolen is now in the top "golden four" GMB search results for all three search results, and so on the first page of their key search term. We even achieved this for the term "Pest Control Downpatrick", even though they don't have a location in Downpatrick. This resulted in a substantial bump in their online inquiries and ultimately an increase in new business.
Case Study Two: Adrian Mooy Accountants
As the name suggests, Adrian Mooy is a firm of accountants based in Derby. Like Truly Nolen, they already had a GMB profile, and it was even reasonably well set up and maintained, but in their key search term of "Accountant Derby", they never made it past page four of GMB local search results. So in effect, were invisible!
We took over management of the GMB profile and immediately tweaked and tuned it, and added newly updated content. We also posted new articles initially weekly and then monthly. This one took a bit longer than usual, but they were right on the first page as number 2 in the local search results after five months. Their website got a nice bump to the top of the organic search results!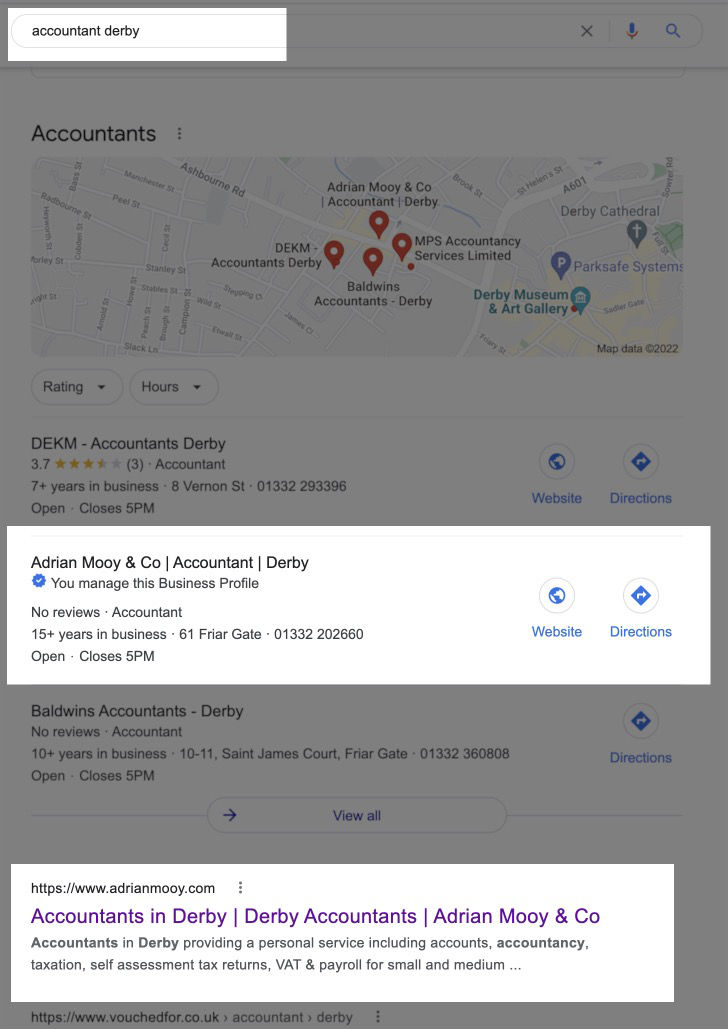 Conclusion
As mentioned in a previous blog post, getting your Google My Business profile managed by a team who truly understand what they are doing and how GMB works can have huge benefits for your business.
To learn more about how we can help get your business to the top of local search results, check out our dedicated Google My Business service page.