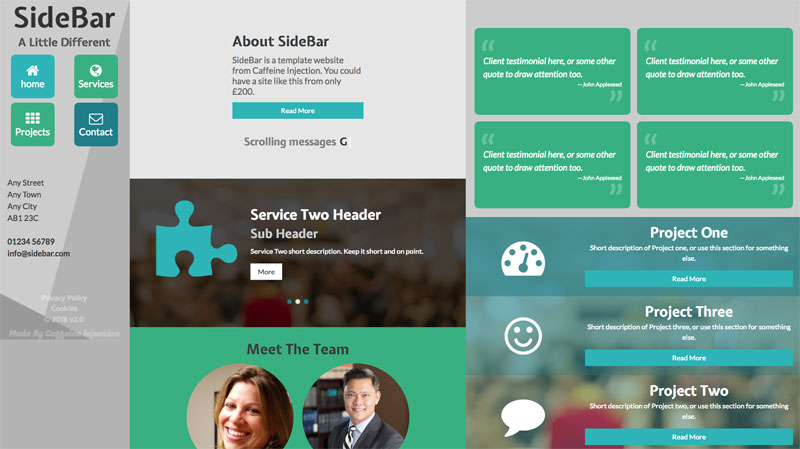 Sidebar
Set Up From £200 / €230
Monthly Subscription & Hosting From £20 / €23
Sidebar works very differently to most websites. Each page is made up of two or three independently scrolling columns as if you have three pages in one. Each column can house it's own self-contained content and can be further compartmentalized by the use of expanding tabbed areas.
Sidebar presents limitless possibilities for displaying your content to the site visitor and due to its unusual layout each piece of content has equal importance on the page.
Sidebar consists of a permanent sidebar containing the menu, and you're business details, along with links to your privacy page, cookie policy etc.
Sidebar lends itself to many different applications, from project management to online retail. We can add any of our dynamic modules to the site giving it real appeal to a wide range of users.
As a template Sidebar can contain as many pages as you wish, and if required we can swap out the navigation system in the demo project for something a little more traditional. Moreover, while we've built the demo site with all pages containing scrolling sidebars, you don't have to. We can make as many or as few pages scroll as you wish.
Get in touch for more information
Visit Demo
<div style='font-size:28px; color:#333333;'><i class='fa fa-arrow-left'></i>Back To Main Page</div>