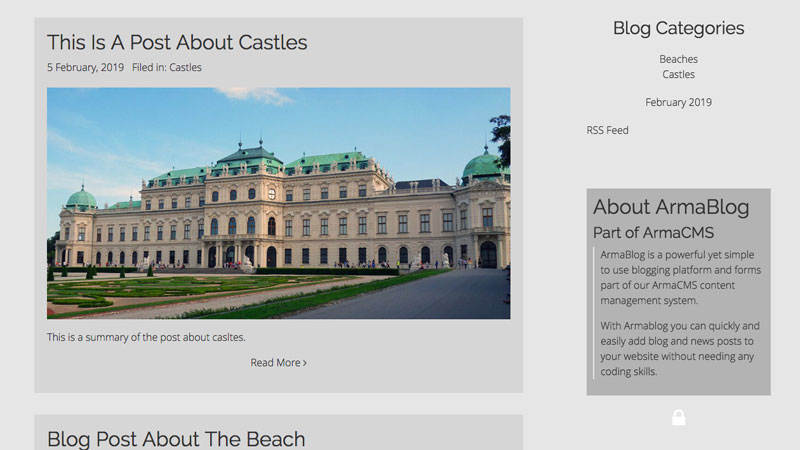 ArmaCMS: Content Management System.
Want to keep your blog or news page updated yourself? Or regularly change specific text, images or videos anywhere on your site? Or maybe you want to be able to add and remove entire web pages without having to pay someone else to do it for you? You need our ArmaCMS!
ArmaCMS is a collection of three different CMS systems all neatly wrapped up in an easy to use addon and controllable from one dashboard. You don't need to know any code or even how to format text. Our system does it all for you.
ArmaBlog
ArmaBlog is a brilliantly simple yet powerful blogging facility enabling you to add news and blog posts to your site from any device, even your phone. It's super simple to use: Log in, click "New Post", drag your pictures and video the edit box, write your text and post.
Check out the video at the bottom of the page to see just how easy it is.
ArmaContent
ArmaContent makes it easy for you to change images, video and text in specified sections of your website from any device. Just log in to the dashboard then either edit on the actual website or find the content into the dashboard and change it there. Click save, and go!
Check out the video at the bottom of the page to see just how easy it is.
ArmaPage
ArmaPage is the daddy of all content management systems. Use it to create entire pages using either the built-in WYSIWYG editor or full HTML. The editor even supports Markdown to make page creation even faster.
Armapage even has its own menu system that can be deployed anywhere on your site. So add multiple ••ArmaPages** and have them appear automatically in the menu system.
Loading...
{"service": "youtube","method" : "playlist_videos","options": {"max_count": 50},"parameters" : {"playlist" :"PLo3df_HSjt3rYInV2OLsKGrmPkylt50yd","channel" :"UCnNk0Zm9qZvPIGahKsyqH8A","query" :"RapidWeaver"}}
Back