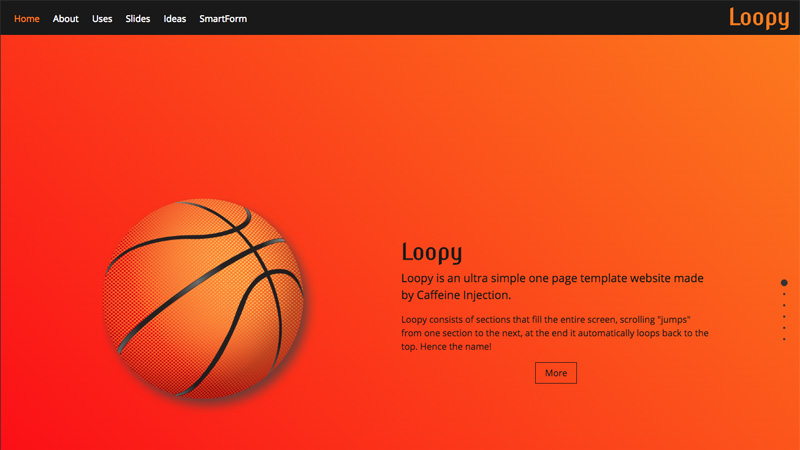 Loopy
Set Up From £150 / €175
Monthly Subscription & Hosting From £10 / €12 a month
Loopy is an ultra-simple one-page website that packs a few twists.
As with all one-page websites the entire site consists of, wait for it… One page!
The menu at the top doesn't link to different pages but different points on the one page. What makes Loopy different to most is that scrolling is fixed to the various sections that make up the page, which is clearly defined using strong colour backgrounds.
The final twist with Loopy comes with the slides section, which contains further sectioned areas that instead of scrolling up and down to navigate between, you scroll side to side! And finally, the clever bit… You can continue scrolling up and down from any sideways scrolling slide, no need to go back to the first one.
All this makes for a very standard looking one site that behaves in a unique way, with masses of potential.
As well as the standard pages, we can add an online shop, blog, video wall, whatever you want.
As with all one-page websites, the key is minimal content. This is made even more critical with Loopy thanks to the sectioned scrolling: Too much content in each section and on small screens it won't all fit on a page. To overcome this, we've added a popup to some sections for additional content.
Loopy is perfect for product launches, as a holding site or for an events website.
Visit Demo
<div style='font-size:28px; color:#333333;'><i class='fa fa-arrow-left'></i>Back To Main Page</div>